About us
In DBB's music you can hear the geographical and cultural similarities between Appalachia, USA, the home of bluegrass, and its mining districts, and the mining and heavy industries of Bergslagen, Sweden, where the band originates (Avesta/Torsåker). Bluegrass is predominantly working class music which has reflected poor conditions in the countryside and mining villages. The music invokes the hard work in the mines and fields, the wide open spaces, the simple life, jealousy, prison guards and the battle between God and the Devil. Downhill's music reflects many of these themes. Music and lyrics express life in the here and now but with an awareness of tradition.
On invitation, they performed more than once at the IBMA Awards in Nashville on account of their excellent playing skills and unique sound, as well as their songwriting abilities. As well as America, they have played festivals in most European countries. Most of the repertoire they perform is their own, and some of these songs have been recorded by both American and European artists
Downhill Bluegrass Band was formed by Jonas and Kenneth Kjellgren with the intentions to play traditionally rooted bluegrass with a contemporary flair. Sharing the same musical ideas and sources for inspiration they started to play together in 1998. Since then they have released five cd:s, the last one "Wonderland" with only original material written by Jonas Kjellgren and Mikael Grund.
The band members today are: Jonas Kjellgren on mandolin and vocals, Kenneth Kjellgren on banjo, Christoffer Olsson on guitar and vocals, Nicke Widen on dobro and Jimmy Sunnebrandt on bass and vocals.
Former line ups have held Kajsa Westin now  in Hillfillies, Jan Ekman on dobro, Hans Wahlstedt on guitar and vocals, Mikael Grund, now in Dunderhead on guitar and vocals, Ryan Drickey on fiddle in Finders and Youngberg, Ivor Ottley fiddle, Erik Gunnars Risberg, amongst others. Through the years Jonas Kjellgren and Kenneth Kjellgren have remained the corner stones of the band.
Downhill is also one of the organizers and host band of Torsåker Bluegrass Festival, one of Sweden's largest bluegrass festivals located in beautiful Torsåker, in a region many call the heartland  of swedish bluegrass. The festival is always the first weekend in july .
Jimmy Sunnebrandt, Fiddle and Vocal, grew up listening to first generation bluegrass like Stanley Brothers, Jimmy Martin etc. and he has played the fiddle since he could walk. His father Leif got him started and Jimmy's main instrument since he was a little kid has been the fiddle. He started playing on stage when he was 6 and enjoyed to read comic books between his solos….
Jimmy has been very busy in music and has been playing in a number of bands since then, in constellations ranging from Bluegrass to country, pop and rock music.
Jonas Kjellgren, Vocals and mandolin. Jonas is the founder of Downhill Bluegrass Band together with his brother Kenneth. He is a well renowned songriter and the creator of the majority of Downhill's material. Jonas started his bluegrass career with "Hot Steam String Band" in Umeå.
He now lives in Torsåker, Gästrikland, where he works as an artist. Jonas has a long career as a songwriter and over the years he has been invited several times to the IBMA (International Bluegrass Music Association) both as a songwriter and as part of Downhill.
Christoffer Olsson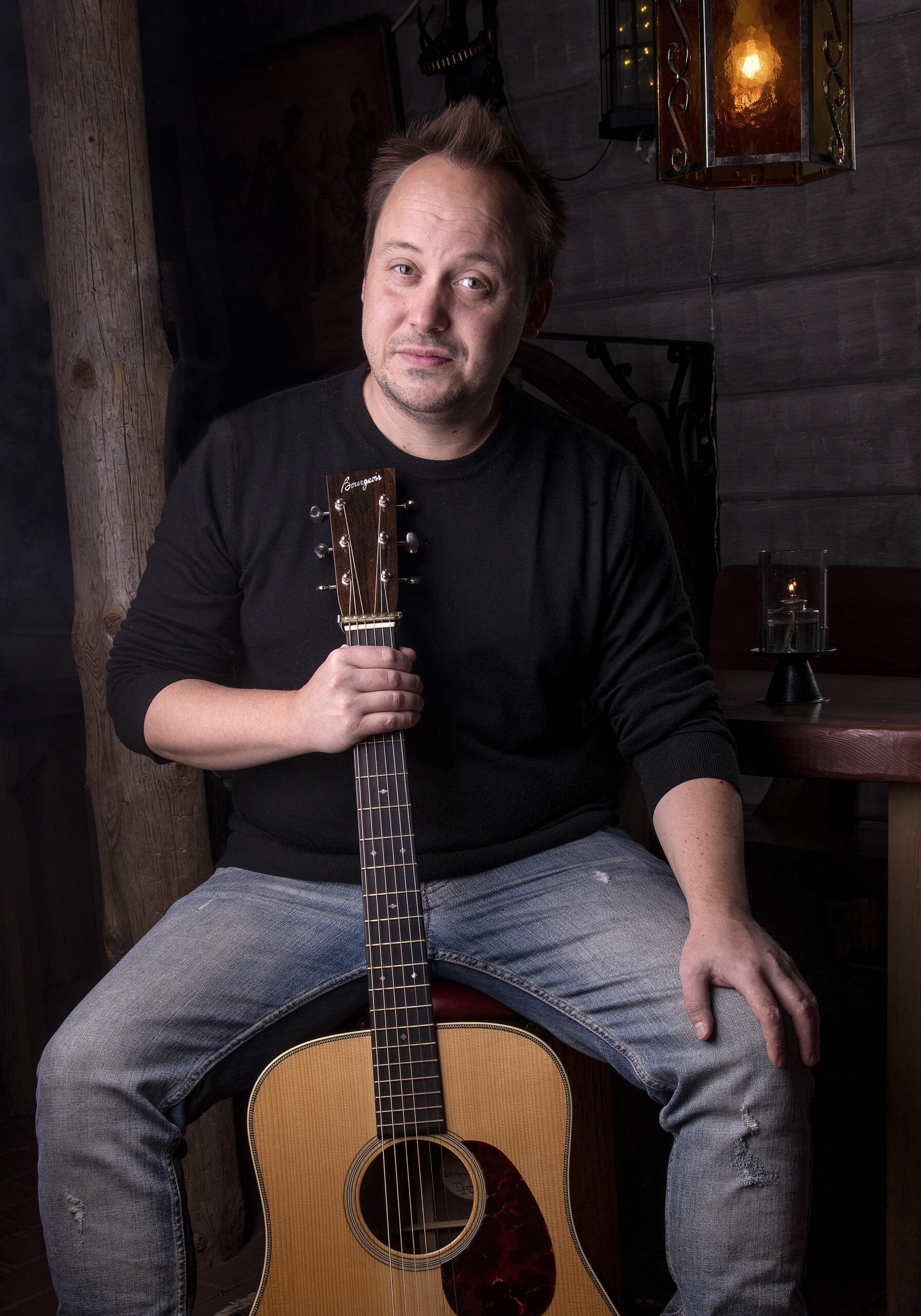 Christoffer Ollson, Vocals and guitar, has a long experince as a singer, songwriter and guitarplayer.
At the age of twelve, he started to play guitar, but kept his guitar playing within his own songwriting. Many years later, at the age of twenty-two, he really fell for the Appalachian sound and started to play bluegrass with a special interest in flatpicking. Bluegrass heroes such as Tony Rice, Ricky Skaggs, Dan Tyminski and many others are big influences in both his singing and guitar playing.
Nicke Widén, Dobro is a sought-after studio- and live musician on professional basis. Nicke runs his own Studio Ljudo in Uppsala, where he records and produces music.
He teaches dobro, guitar and lapsteel. One of his rather unusual projects is a duo that perform Elvis Presley covers. In Russian.
Kenneth Kjellgren, banjo player and the founder of the group together with his brother Jonas. Lives in southern Dalarna on a small farm. Has been active in the Swedish bluegrass circuit since the late 70's and has been part of groups such as: Foggy Mountain Faggot Boys, Cayenne, Dor and Moore, Weeds, Gravelroad, Gravity and Barnyard Fury .
Kenneth is also on the board of Torsåker Bluegrass Festival, Sweden's largest bluegrassfestival.
↓ Review You
Sweden's own Downhill Bluegrass Band has released five albums since forming in 1998. Their latest, 2014's Wonderland, once again shows the level of mastery the band has attained over the traditionally American genre of bluegrass. The arrangements, songwriting, and vocal delivery all do exactly what they should to help convey the emotional triumphs and tribulations that the working class is subjected to. Wonderland leans more towards the tribulations side of things, dedicating more time to some somber material. This eschews the balance of the album a bit too much, but still makes for an engaging listen.
Downhill Bluegrass Band is a six piece group featuring Jonas Kjellgren on mandolin and vocals, Kenneth Kjellgren on banjo, guitarist and vocalist Mikael Grund, bassist and vocalist, Kajsa Kjellgren Westin, and Nicke Widen and Erik Gunnars Risberg on the dobro and fiddle respectively. As one might imagine, this not only provides all the necessary ingredients towards a full bluegrass sound, but a lush soundscape in general; one that's full of exceptional musicianship.
Kicking things off is the quickly paced, "No Matter How Hard I Try." This is a fantastic display of the energy and talent the band is capable of. The quick banjo picking, strong harmony vocals, plucky bassline and beautiful mandolin really stand out. Given the pacing of the track, it's not all surprising that it's over in a little less than two and a half minutes, but it's a wonderful toe-tapping time while it lasts.
The title track is closer in tone to what the rest of the record is like. While it's not a plodding pace by any means, it's obviously slower than its predecessor, focusing more on the story of its weary traveler. One of the strong moments of the song is the instrumental refrain that features the dobro and mandolin playing together in a stunning harmony. The song in general is beautifully performed and arranged and still manages to include a bit of a sing-along hook to its chorus, despite the somber nature of the lyric.
"Wouldn't It Hurt" continues along these somber lines, beginning more as a country song with a simpler arrangement. It uniquely builds up to include more instrumentation, gradually bringing in the banjo and fiddle until it reaches the band's full ensemble. It's a fascinating little touch to make as it gives the listener time to hear some of the individual capabilities of the instruments one-by-one. The song that follows, "The Game is Over," returns to the full arrangement with a prominent bassline and also picks up the tempo. It remains just as somber as the songs that precede it, with the singer basically conceding to defeat in life and love.
If there's one flaw to the album it's that the slower songs dominate in terms of number and length. "Listen Up" and "Homecoming Glasses" are both exceptionally plucky and perky songs, but they're also as brief as their sister track that opens the record. Not that it's any more interesting to hear the Downhill Bluegrass band in this capacity (because they're interesting no matter what they play) but these numbers inject some energy and reprieve from the heavy subject matter and emotion of the slower pieces. It feels like there's an untapped potential in listening to this sextet play an extended jam, but what we get instead are two minute snippets of what could be.
Regardless, there's no denying the intensity of emotion the band conjures up with their lyrics and music. The fiddle goes a long way towards this, and its playing is especially noteworthy on "Elsewhere" and "The Factory." The former is a very bluesy piece with the singer stating that he's leaving for elsewhere. The banjo keeps a rapid pace, but the cry of the dobro and fiddle remind the listener that this is a painful farewell the narrator is undertaking. "The Factory" on the other hand bookends itself with strong fiddle performances that help announce and reiterate the spirit of the piece.
With a dozen songs to enjoy, there's no shortage of content on Wonderland. There are the beautiful harmonies on "Go Your Own Way," the lyrical power of "Beneath The Clay," and the heartfelt closer of "Lay Down Beside Me." Downhill Bluegrass Band is a tremendously inspired group of musicians united behind phenomenal musicianship and strong songwriting. While it would've been nice to hear some more of the group's frenetic energy coming to life, Wonderland is still wonderful, and a necessary listen for the casual and hardcore bluegrass fan alike.
Artist: Downhill Bluegrass Band
Album: Wonderland
Review by: Heath Andrews
Rating 4.5 Stars (out of 5)
↓ Sing Out Magazine
Bill Monroe would be proud. His music has travelled very well. Lately bluegrass bands have popped up all over the world, but in Sweden the sound seems to be particularly popular.
Downhill Bluegrass Band was founded in 1997 by mandolinist/vocalist Jonas Kjellgren and his brother banjoist/harmonist vocalist Kenneth. A Grasshopper's Lament is the band's fourth cd and the first with all original material composed by Jonas. In addition to the brothers, the band includes Kajsa Westin, bass and harmony vocals; Ivor Ottley, fiddle; Nicke Widen, Dobro and Magnus Sundstrom , guitar and harmony vocals.
A Grasshopper's Lament opens with "Give it up and give in" a fast-paced tune wich highlights Kenneth's banjo, Nicke's Dobro and the bands harmony vocals. The lead vocals taken by Jonas have a distinctly new grass spirit with thankfully no faux southerbn accent. "Reckless Wind" could come right out of Jimmy Martins songbook with it's soulful lead vocals, Magnus' flatpicked guitarsolo and rhythmic stops and starts.
"The Duke" is a swing-inspired tune spotlighting Ivor's fiddle and once again Magnus' guitar. The backing vocals are especially tasty. The title track is a moderately paced instrumental allowing each of the soloists a turn at the sweet melody. "Up and Down these Roads" wich concludes the CD, is an introspective observation on the future and the knowledge gathered over time.
If there is a criticism of the Downhill Bluegrass Band it is the sameness in the lead vocal sound. Jonas is a distinctive singer but a little variety would have been nice.
In any case the Downhill Bluegrass Band has learned many lessons from the masters of the style. A Grasshopper's Lament is a solid, well-played bluegrass CD any American band would be right proud of.
TOM DRUCKENMILLER
↓ Bluegrass Unlimited
Strong instrumentation, good vocals and harmonies, and original material have made this group from Sweden one of the most popular bands in Europe. They also have had several successful trips to the U.S., where they have been warmly received. The project is their fourth release and was more than a year in production because they wanted a "more mature and thorough sound."
All the songs on this project are original with Jonas as the primary composer of both music and lyrics. The music runs the gamut from straight bluegrass to jazz to the dark side of "Silver And Gold." The title cut is a slow instrumental that lets everyone shine.
There is a variety of moods here from "Give It Up And Give In," "Us Against The World," "That Idiot Wind," "Crawl Back," to "Talking To A Barman."
Downhill continues to draw in fans from both sides of the pond!
BILL FOSTER
↓ Review You
To a majority of people, bluegrass music is going to be associated with the American South and Appalachian regions where the genre developed and flourished.  Somewhere further down the list of places you might expect to hear a bluegrass band hailing from is Sweden, but that's exactly where Downhill Bluegrass Band comes from.  Having been around since the late '90s, the group, led by singer and mandolinist Jonas Kjellgren, has toured extensively around Europe and released three albums.  Their fourth, A Grasshopper's Lament, bristles with energy, talent, and exceptional songwriting.  What's more is how staggeringly well the band plays together, resulting in a consistently stellar album that comes together as more than the sum of its parts.
The band's line-up consists of the aforementioned Jonas Kjellgren, Kenneth Kjellgren on banjo, Magnus Sundstrom and/or Mikael Grund on guitar, Nicke Widen playing dobro, fiddle-player Ivor Ottley, and bassist Kajsa Westin.  In all fairness, no one musician outshines another across the album.  Everyone in the band feeds into the group sound and the synergistic effect it creates is always complimentary to the emotion of the song.  Even when one of the pieces doesn't have a strikingly memorable hook or isn't entirely catchy, the lively performances make every one of the thirteen songs enjoyable.
"Give it Up and Give In" leads the album off with the kind of sound that is very identifiable with the genre.  Quick paced banjo picking meets the gentle whine of the dobro to create a bouncy energy and a slight bluesy tone.  This matches the lyric well as Jonas sing, "Now when the fire comes down, they'll be no one around to show you the way…"  His voice and delivery is very notable as well for its unique qualities.  If Roland Gift of the Fine Young Cannibals decided to go country with a bit of a lower pitch and tone, you'd have a reasonable approximation of Jonas's voice.  He makes his songs compelling and delivers his lyrics just as well as he wrote them.
"Silver and Gold" demonstrates the band's ability to create a unique arrangement in order to emphasize the emotional weight of a song.  Though it starts off with forceful rhythm guitar and vocals, the instrumental bridge is played in a gentle manner by the band, allowing the fiddle to take advantage of this and deliver a strongly emotional solo.  Throughout the piece are sustained backing vocals that also add to the song's emotional weight.
The title track's straight-up instrumental does a good deal to showcase the individual member's talents as strong dobro, guitar, mandolin, and fiddle parts drive the song along its three minute journey.  The performances are so strong that the song just breezes right by in its jubilant manner.  "Count Me In" is another piece that flies right by on the strength of its fiddle, backing vocals and the way the higher timbre of the mandolin pokes its way through the arrangement to remind you of how much it adds to the music.
Though it's difficult to call one song better than any of the others, since they are all so strongly consistent, "That Idiot Wind" is a contender for the best song here on the album.  With an intensely catchy chorus, delivered brilliantly by Jonas, and just the right amount of harmony from the rest of the group, the brilliant hook stands out amongst the many others.  "Crawl Back" is also a contender for the best song on the album given its darker tone and story about a woman who you really don't want to get involved with; because she may be in league with the Devil.
Downhill Bluegrass Band has put together an exceptionally strong album of amazingly well-performed original bluegrass songs.  Each track is the perfect length and showcases a cohesive band playing to their full potential.  It'd be hard to improve on material this strong, so the only potential problem with A Grasshopper's Lament is in how high the bar has been set- for future releases
HEATH ANDREWS
↓ Arbetarbladet
Torsåker- och Avestabaserade Downhill bluegrass bands fjärde skiva skulle ha släppts redan våren 2010, men av kvalitetsskäl fick den vänta ett år. Nu har det pillats och skruvats lite extra i studion och visst har det gett resultat.
Det är inte en renodlad bluegrassplatta den här gången, mycket av materialet är snarare gitarrbaserad singer/songwriter-rock. På spår som "Silver and gold" och "Us against the world" fungerar det riktigt bra. Sångaren och låtskrivaren Jonas Kjellgrens röst har ett styng av vemodigt djup i sig som inte är helt olikt det Christian Kjellvander besitter.
Dbb är ett av huvudnumren på årets upplaga av Torsåkers bluegrassfestival. Den som vill höra trestämmig sång, mandolin, fiol och hur en femsträngad banjo ska plockas bör inte missa den chansen. Men det låter väldigt bra på skiva också
NILS HOLMKVIST
↓ Dalademokraten
Varför skriva om en bluegrass-CD på kultursidan? Det finns flera svar: Ett är att jag skriver om precis vad jag vill. Ett annat svar är att Downhill Bluegrass Band hör hemma i Torsåker-Avesta och är Sveriges kanske absolut bästa i genren. Svaret kan också vara att bluegrass är kultur, låt vara en amerikansk kultur från början.
Bluegrass kommer från gruvdistrikten i Appalacherna. Där skapade fattiga vita arbetare sin musik. De sjöng om det enkla livet och slitet för brödfödan. I Sverige har bluegrass också fått fäste på många håll.
Downhills fjärde CD är dock inte renodlad bluegrass, om det nu finns någon sådan. Det laboreras med inslag av irländsk folkmusik, jazz och lite till. Downhills sound kommer mycket från instrumenteringen. Banjo, mandolin, bas, fiol, dobro och gitarr skapar ett speciellt sound som Downhill utnyttjar till fullo. Jonas Kjellgren har också stor betydelse. Det är han som skriver det mesta.
Det är ganska stillsam bluegrass som Downhill Bluegrass Band spelar, glöm instrumentdueller à la Sista färden. Här är det harmoni som gäller, en helhet som ska fram. Bluegrass kan vara väldigt skönt när gräset är grönt och Downhill Bluegrass Band är på spelhumör.
LENNART GÖTESSON
↓ Countrywood
A Grasshoppers Lament är Downhill Bluegrass Bands fjärde fullängdare. Samtliga låtar är skrivna av Jonas Kjellgren, frånsett "Reckless wind", "Count Me in" och "Talking to a barman", där Jonas tagit hjälp av Maja Göransson som textförfattare. Det är ingen renodlad bluegrassplatta gruppen har spelat in den här gången, utan man har tagit ut svängarna lite på en del låtar, och som de själva skriver i inlagan till cd:n så har Downhill Bluegrass Band "vågat göra en skiva som är lite självständigare än de tidigare". Variationen fungerar också väldigt bra utan att göra så stora avsteg från bandets ursprungliga grund, ingen behöver vara orolig för att Downhill Bluegrass Band ska ha svikit sina lyssnare.
Något som jag inte kan frångå att kommentera särskilt är Ivor Ottleys snygga fiolspel, det fina banjospelet av Kenneth Kjellgren och skickliga gitarrspelet av Magnus Sundström, samt att stämsången sitter som en smäck. Det ska också sägas att övriga musikanter – Jonas Kjellgren, sång, Kajsa Westin, bas och Nicke Widén, dobro – är väldigt skickliga på sina instrument och förtjänar ett lika stort omnämnande för sina insatser på plattan.
Inom sin genre tillhör Downhill Bluegrass Band gräddan av de svenska banden, och det är inte utan anledning att man turnérar en hel del utomlands också. A Grasshoppers Lament är variationsrik och en uppvisning i snygg samspelt instrumentering – ett måste för alla fans av bluegrass och närbesläktad musik!
GEORG RYTTMAN