Vår senaste skiva,  en EP med 6 låtar skrivna av Jonas Kjellgren och Christoffer Olsson, bland annat med Cold November Rain som fick pris i CountryBluegrassklassen i International Acoustic Music Awards 2021
"Bell Metal Reeds" Pelle Lindström & Downhill Bluegrass Band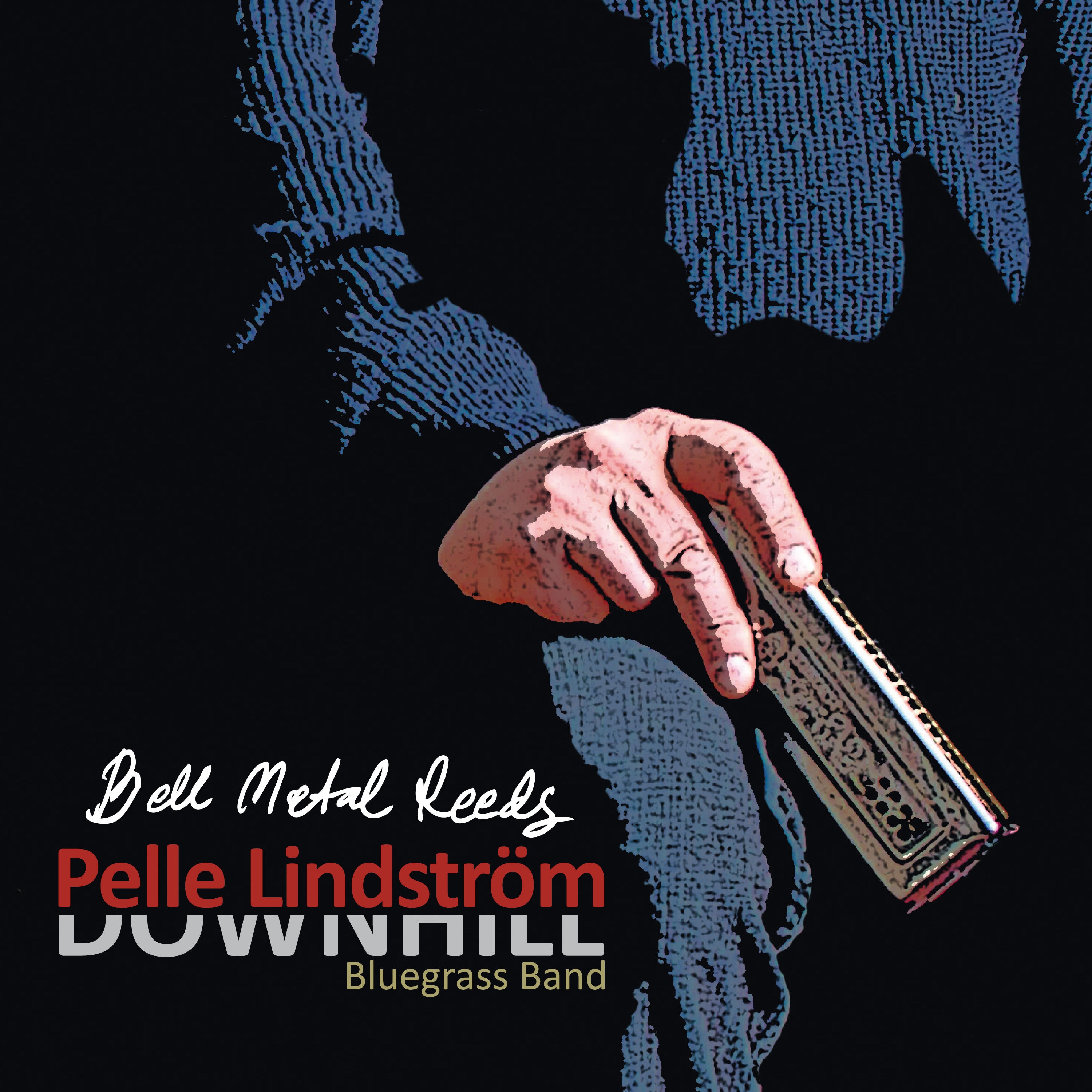 "Bell Metal Reeds"
Efter några års lyckat samarbete mellan dem är det dags för en skiva med Downhill och Pelle Lindström! Även om Downhill släpper skivor med jämna mellanrum är det över 33 år sen senaste Pelle Lindströmskivan!
Båda parter är stolta och glada över att ha fått genomföra detta inspelningsarbete. Kulturbäraren, spelmannen, skröneberättaren och munspelaren från Leksand, som med mer än 50 års musikalisk erfarenhet bakom sej blandar influenser från den amerikanska södern, bergen i Appalacherna, polskor från Leksands skogar, hörs här med Downhill som spelar bluegrass sprungen ur Torsåkers mylla.
"Mountain Songs and Other Stories" Maxida Märak & Downhill Bluegrass Band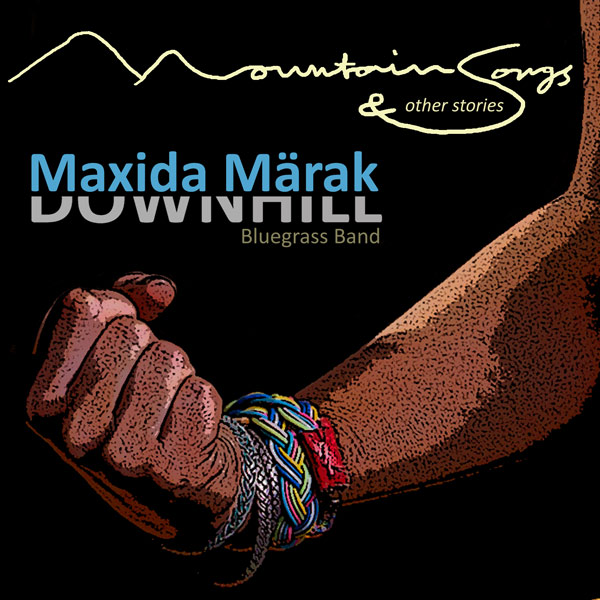 Maxida Märak, medlem av den samiska ursprungsbefolkningen, samarbetar med Downhill Bluegrass Band i ett musikaliskt projekt där man blandar bluegrass med traditionell samisk folkmusik. Maxida växlar modern sång med den traditionella samiska jojken.
"Mountain Songs and Other Stories" bryter ny mark och utforskar likheterna mellan den samiska kulturens musikaliska uttryck och amerikansk traditionell folkmusik från Appalacherna.
Bergen har en central roll i båda sammanhangen, och hur gruvindustrin påverkar livet för både människor och natur på båda sidor av Atlanten.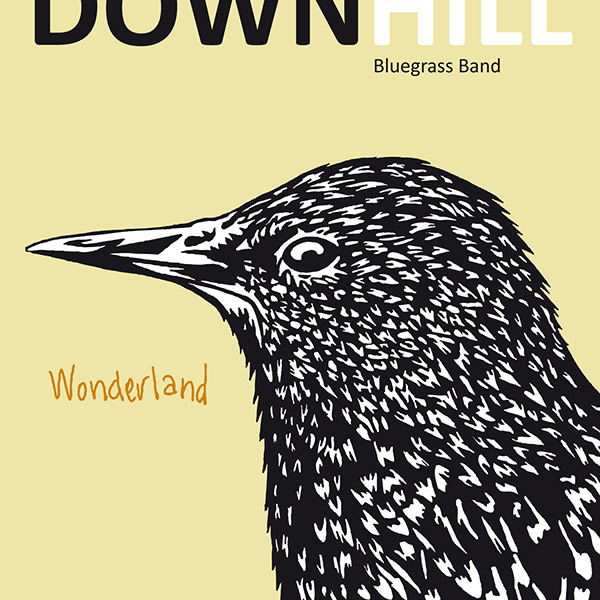 Vårt femte CD med material skrivet av Jonas Kjellgren och Michael Grund. Inspirationen är till stor del traditionell bluegrass, både med instrument och med den trestämmiga stämsången som är så specifik för genren.
Även traditionell blues och country har påverkat  Downhill's musik liksom Bluegrass i stort.
På skivans enda instrumentala spår skrivet av Erik Gunnar Risberg, kan även en touch av svensk folkmusik skönjas.
Recension från Bluegrass Unlimited
Often it seems the voice of a singer can influence the type of song he/she writes. And so it is with the Downhill Bluegrass Band. On their fifth release, the songwriting is divided almost fifty/fifty between mandolinist Jonas Kjellgren (six) and guitarist Mikael Grund (five), and largely the leads match with the song style.
There are always exceptions to every rule, but for most of this recording, it's safe to say that Grund writes and sings the brighter tunes, such as the quick-paced "No Matter How Hard I Try" and the slower but airy "Wouldn't It Hurt." Both may deal with subjects of anguish and loss, but there is a lack of false tension in them
In other words, Grund lets the words produce the tension. He does the same with several of his other tunes, the best of which is the fingerpicked, folk sound of "Little Bird." All of those are in keeping with his smooth and even, midrange vocals. The one exception is "Beneath The Clay," which is more edgy.
The opposite of Grund is Kjellgren. His voice is darker, more blues-oriented, and filled more with tension. That darkness, blues, and tension characterizes most of his original songs. "Wonderland" is an excellent piece of songwriting, filled with allusions you don't often hear in bluegrass. It has a real grit to it, wringing out emotion at every turn. It is echoed by "The Game Is Over," a similarly taut piece of fine writing. "Listen Up" has a persuasive bounce, and "Lay Down Beside Me" is lullaby soft.
Together with the instrumental work from banjoist Kenneth Kjellgren, resonator guitarist Nicke Widen, fiddler Erik Risberg, and bassist Kajsa Kjellgren Westin, they've created an album worthy of hearing again and again.
Bluegrass Unlimited
↓ Text No Matter How Hard I Try
I keep on walking in worn out shoes
My back is weary from carrying the blues
I left Chicago
In the cold morning rain
I keep on searching for pearls in the dust
My engine's busted, my wheels start to rust
Ain't gettin' nowhere
This is the end of the line
No matter how hard I try just can't get her off my mind
Can't blame it on the whisky or the pills I guzzled down
Can't live without her lovin', just can't stay in this old town
My tears roll on by 'cross the borderline tonight
Used to have a reason to get out of bed
Life was kinda easy, no dark thoughts in my head
But I killed the beauty
While raising the beast
Her heart's still beating, just not for me
God knows I'm trying to let it be
My heart was cheating
Now I'm paying the price
No matter how hard I try just can't get her off my mind
Can't blame it on the whisky or the pills I guzzled down
Can't live without her lovin', just can't stay in this old town
My tears roll on by 'cross the borderline tonight
And my tears roll on by 'cross the borderline tonight
↓ Text Wonderland
Broken cups and self-esteem
stained rugs and long lost dreams
Some have settled in the mud
Others vanished with the flood
In to fields of rye I run
I hide I fear the setting sun
And the wind will soon reply
Deeper you go deeper strive
Let me rest here for a while
Let me breathe my own consistence
Then I'll be fine, yes I will be fine
Let me make it all worth while
Whisper words of no insistence
if you glow
I'll start to shine
Send me of to wonderland
Let me join that marching band
Can you hear that trumpet blow
I will meet you there I know
Through that rabbit hole I slide
Over to the other side
I will wear a golden crown
I will wear it upside down
Scattered pieces on the ground
treasures lost and never found
once we owned our wilderness
and held it closely to our chests
Through the woods down crocked trails
over hills and countless tales
A little while and I will be gone
at the rise of early dawn
↓ Text Wouldn't It Hurt
Wouldn't it be too hard to take
Wouldn't it hurt too much
You're out of reach for helping hands
You're out of straws to clutch
A thousand times I begged of you
Not to do the things I'd done
But if something would happen to you
I should have begged you a thousand and one
When the night comes falling down
I pray you're safe and sound
I don't know what I would do
Wouldn't it hurt too much
As the leaves fall from the trees
And rattle across the ground
You're out of reach for pleading words
And nowhere to be found
When the night comes falling down
I pray you're safe and sound
I don't know what I would do
Wouldn't it hurt too much
I don't know what I would do
Wouldn't it hurt too much
I know it would hurt too much
↓ Text The Game is Over
I should have known better
Then to trust you with my lies
Now things fly all around me
every promise has it's price
You told me we were happy
I never questioned that at all
but in your swift an trembling gaze
I saw an empire fall
The game is over, the race is run and we lost again
The game is over, we played along 'till the bitter end
I guess I would have known you better
If you had told me about your self
but no you never ever did that
You always spoke of someone else
now your voice is getting weaker
the lights are growing dim
your face is slowly fading
as the darkness closing in
The game is over, the race is run and we lost again
The game is over, we played along 'till the bitter end
The game is over, the race is run and we lost again
The game is over, we played along 'till the bitter end
↓ Text Elsewhere
Fly away with me
In this sweet summer breeze
Here I just can't stay
I'm not gonna sit around
And watch it all fade away
Peace is what I seek
To break this losing streak
This could be our chance
To leave this place
And find somewhere
Where we could sing and dance
I'm leaving for elsewhere
Breaking the leashes
Holding me down
Kiss me and I swear
I'll take you with me
And we'll be elsewhere bound tonight
Days between defeats
Spent walking down these streets
To where, well, I don't know
I just kinda walk the way
My feet decide go
I'm leaving for elsewhere
Breaking the leashes
Holding me down
Kiss me and I swear
I'll take you with me
And we'll be elsewhere bound tonight
I'm leaving for elsewhere
Breaking the leashes
Kiss me and I swear
I'll take you with me
Tonight
Yeah, we're leaving for elsewhere
Tonight
↓ Text Go On Your Way
Go on your way and I'll go mine
Follow them cracks, see, it runs back in time
What if and if only
You beat that drum slowly
Dress you self in satin and I'll dress in black
When we reach that junction there's no turning back
Tweak that sound up loud
It helps me keep my head in clouds
My heart keeps burning while your gaze is dead
I got thousand movie pictures running through my head
oh now the music is gone
still my hands clap along
Draw up a grid now let's see what we got
lost and forsaken fits right into that spot
and what else have we learned
lets sum up what we earned
and what did we earn
Go on your way and I'll go on mine
I follow the crack that runs back in time
I'll might meet find you again somewhere along
that line that stretches runs out from where
right turned into wrong
Go on your way
I'll be fine
I'm not afraid
I know I'll find mine
what if and if only
↓ Text Beneath The Clay
Lay a whisper
Beneath the clay
Hold on to the cold ground
Watch the daisies rise
Lay your heart
In the dirt and pray
Let go of the water
Behind your eyes
Stay forever
Stay within
Fill my veins with your blood
And breathe in me
Live in me
Under my skin
Let your spirit flow through my flesh
Eternally
My friend dry your eyes
It's time to go
My love
Live your life
We will meet
Sometime
Take me in
Hold me near
My ghostly voice will shiver
In a dying wind
Carved in stone
Drenched in tears
Cursed to die forever
The reaper grins
Ashes to ashes
Yet restless still
Kneel before your maker
And he'll forgive
Lay down to rest
Beyond the hills
Without the love of my life
I have to live
My friend dry your eyes
It's time to go
My love
Live your life
We will meet
Sometime
Repeat chorus
↓ Text Little Bird
I walked out into the woods
Whistling softly passing time
Black crow sittin' in a tree
Saying "Little boy, why don't you fly?"
I looked up with squinting eyes
Sunlight hit my freckled nose
Asked myself "Is this a dream?"
Can't be sure, but I suppose
Little bird I have no wings
Little bird I have no wings like you
But one day
One day I will fly
I set out to find my wings
Thought that I'd find paradise
But darkness killed the light of day
Sandman shut my tired eyes
Woken by a dreadful sound
I cowered in the black of night
The wolves were closing in on me
Looking for a little bite
Little bird I have no wings
Little bird I have no wings like you
But one day
One day I will fly
Mother went into the woods
Crying out her deepest fear
Searching madly as she cried
Losing hope with every tear
Oh, dear mother I got lost
Couldn't hear you callin' my name
I regret the day I lost myself
To the hollow man that I became
Little bird now I've got wings
Little bird now I've got wings like you
But I'd trade them
For another day in life
Oh yes, I'd trade them
For another day life
Oh yes, I'd trade them
For another day life
For another day life
↓ Text The Factory
I was standing at the end of the horizon
and listening to he sound of clear cuts weep
and deep down in the valley white smoke was rising
in a sigh from a beast that never sleeps
It's been a long time now since I stood upon this mountain.
and a familiar wind is whispering your name
and thou through the years time have called for changes
the hurting and the pain remains the same.
There at nights the red eyes cut us like a razor
and it kept feeding from our hopes and make beliefs
as the shadows of what may was growing longer
the years would wear away all our wistful dreams
But underneath a northern sky
I will dive into the night
So I put all my weight on one foot and I'll make a leap so high
that I'll reach the highest wall
climb over and then I will fall
into your arms.
We got old and (we) never found that four leaf clover
and the circus never rolled into our town
Now at the end of this rainbow, the party is over
down from the hills runs a hollow sound.
↓ Text Come Lay Down Here Beside Me
Come lay down here beside me
While I rest my bones
We're a long way from home now
And from where we started to roam
Lay your arms around this eerie stillness
Breathe some light into me
Let me see your smile once more, now
Maybe that will can set me free
Draw me nearer to you now, the wind is shifting
Can you hear the Whippoorwill
The moon is hiding, and speaks in silence
Of a land beyond these hills
Wait a little longer, and hold me closer
The shadows swirling around your face
have I done all I could
is the wind all there is
did my walking leave a trace
↓ Recension från Zero Magazine
Bra bluegrass kräver skickliga musiker, och skickliga musiker fattas inte Downhill Bluegrass Band, med hemvist i Avesta/ Torsåker. Faktum är att sextetten är så duktiga på det de gör att självaste IBMA (International Bluegrass Music Association) i Nashville, USA har bjudit in dem att spela, flera gånger.
Wonderland är gruppens femte platta sedan albumdebuten år 2000 och plattan innehåller tolv låtar, skrivna av Jonas Kjellgren (sång och mandolin) och Mikael Grund (sång och gitarr). Övriga medlemmar är Kajsa Kjellgren Westin (sång, ståbas), Kenneth Kjellgren (banjo), Nicke Widén (dobro) och Erik Gunnars Risberg (fiol)
Samtliga instrument är givetvis akustiska och körsången trestämmig så som det anstår traditionen. Personligen faller jag inte för vartenda spår här, men bland favoritlåtarna nämner jag gärna ett par melodiöst vackra låtar som "Wouldn´t it hurt" och "Elsewhere". Det är de som satte sig i mitt medvetande, redan då jag lyssnade på plattan första gången. Men även bluesiga "Go on your way" förmedlar djupa känslor, liksom den något snabbare "The factory".
På tal om högre tempo förekommer givetvis sådant här också. Ett par exempel är inledande "No matter how hard I try" med sina fina soloprestationer, och instrumentala "Homecoming glasses" som Risberg skrivit.
Så för den som vill släppa loss och dansa finns det möjligheter här också.
Robert Ryttman
↓ Recension av Heath Andrews
Sweden's own Downhill Bluegrass Band has released five albums since forming in 1998. Their latest, 2014's Wonderland, once again shows the level of mastery the band has attained over the traditionally American genre of bluegrass.
The arrangements, songwriting, and vocal delivery all do exactly what they should to help convey the emotional triumphs and tribulations that the working class is subjected to. Wonderland leans more towards the tribulations side of things, dedicating more time to some somber material. This eschews the balance of the album a bit too much, but still makes for an engaging listen.
Downhill Bluegrass Band is a six piece group featuring Jonas Kjellgren on mandolin and vocals, Kenneth Kjellgren on banjo, guitarist and vocalist Mikael Grund, bassist and vocalist, Kajsa Kjellgren Westin, and Nicke Widen and Erik Gunnars Risberg on the dobro and fiddle respectively. As one might imagine, this not only provides all the necessary ingredients towards a full bluegrass sound, but a lush soundscape in general; one that's full of exceptional musicianship. Kicking things off is the quickly paced, "No Matter How Hard I Try." This is a fantastic display of the energy and talent the band is capable of. The quick banjo picking, strong harmony vocals, plucky bassline and beautiful mandolin really stand out. Given the pacing of the track, it's not all surprising that it's over in a little less than two and a half minutes, but it's a wonderful toe-tapping time while it lasts.
The title track is closer in tone to what the rest of the record is like. While it's not a plodding pace by any means, it's obviously slower than its predecessor, focusing more on the story of its weary traveler. One of the strong moments of the song is the instrumental refrain that features the dobro and mandolin playing together in a stunning harmony.The song in general is beautifully performed and arranged and still manages to include a bit of a sing-along hook to its chorus, despite the somber nature of the lyric. "Wouldn't It Hurt" continues along these somber lines, beginning more as a country song with a simpler arrangement. It uniquely builds up to include more instrumentation, gradually bringing in the banjo and fiddle until it reaches the band's full ensemble. It's a fascinating little touch to make as it gives the listener time to hear some of the individual capabilities of the instruments one-by-one.
The song that follows, "The Game is Over," returns to the full arrangement with a prominent bassline and also picks up the tempo. It remains just as somber as the songs that precede it, with the singer basically conceding to defeat in life and love. If there's one flaw to the album it's that the slower songs dominate in terms of number and length. "Listen Up" and "Homecoming Glasses" are both exceptionally plucky and perky songs, but they're also as brief as their sister track that opens the record. Not that it's any more interesting to hear the Downhill Bluegrass band in this capacity (because they're interesting no matter what they play) but these numbers inject some energy and reprieve from the heavy subject matter and emotion of the slower pieces.
It feels like there's an untapped potential in listening to this sextet play an extended jam, but what we get instead are two minute snippets of what could be. Regardless, there's no denying the intensity of emotion the band conjures up with their lyrics and music. The fiddle goes a long way towards this, and its playing is especially noteworthy on "Elsewhere" and "The Factory." The former is a very bluesy piece with the singer stating that he's leaving for elsewhere. The banjo keeps a rapid pace, but the cry of the dobro and fiddle remind the listener that this is a painful farewell the narrator is undertaking. "The Factory" on the other hand bookends itself with strong fiddle performances that help announce and reiterate the spirit of the piece.
With a dozen songs to enjoy, there's no shortage of content on Wonderland. There are the beautiful harmonies on "Go Your Own Way," the lyrical power of "Beneath The Clay," and the heartfelt closer of "Lay Down Beside Me." Downhill Bluegrass Band is a tremendously inspired group of musicians united behind phenomenal musicianship and strong songwriting. While it would've been nice to hear some more of the group's frenetic energy coming to life, Wonderland is still wonderful, and a necessary listen for the casual and hardcore bluegrass fan alike. Artist: Downhill Bluegrass Band Album: Wonderland Review by: Heath Andrews Rating 4.5 Stars (out of 5)
↓ Recension från Lira Musikmagasin
Swedish review from the swedish Music magazine  Lira På Wonderland varierar Downhill Bluegrass Band snabb bluegrass med en mer melankolisk americana som vandrar tillbaka till rötterna.
Bandet härstammar från Bergslagen i Sverige men har ett sound rotat i USA:s djupaste inland. Tänk Nebraskas ödsliga slätter eller de sumpiga träskmarkerna i Louisiana. Komplett med banjo, dobro och ståbas. Tillsammans med en sångteknik som på bland annat Wouldn't it hurt påminner om Christian Kjellvander görs det till något mer.
För trots namnet är Downhill Bluegrass Band mer än bara bluegrass, och det står ut i konkurrensen. De är tajta och känns märkbart rutinerande. Men, lite mer påtaglig hjärta och smärta hade inte skadat, de kunde ha tagit ut svängarna lite mer för att få en större variation. Wonderland är en skiva som genomsyras av kvalitet.
Skivbolag: LimestoneHouse Music Recenserad av: Mette Carlbom
↓ Recension från SMCC
Downhill hade release på denna deras senaste CD på Grennafestivalen 140816. Bandet visar på denna CD att de tillhör landets absolut bästa band. Kenneth Kjellgren och Nicke Widén har producerat skivan och Mikael Grund (fem låtar) och Jonas Kjellgren(sex låtar) har skrivit elva av CD'ns 12 spår. Det tolfte spåret "Homecoming Glasses" är en instrumental låt av bandets fiddlare Erik Gunnars Risberg.
Jag gillar denna CD skarpt trots att jag inte är någon utpräglad bluegrassfantast. Anledningen till att jag gillar skivan är att jag gillar lite stillsammare bluegrass och flera av låtarna här går i lite lugnare tempo och med bra texter. Titellåten "Wonderland" är en lite lugnare ballad som jag gillar. Detsamma gäller "Wouldn't it hurt".
Tempot ökar något i "The game is over". "Go on your way" och "Beneath the clay" är två lugna bluegrassballader som jag gillar. Samma gäller för "Little bird" och "Lay down beside me", två mycket bra låtar.
Det här är ett givet köp för dig som gillar bluegrass
Lars Thell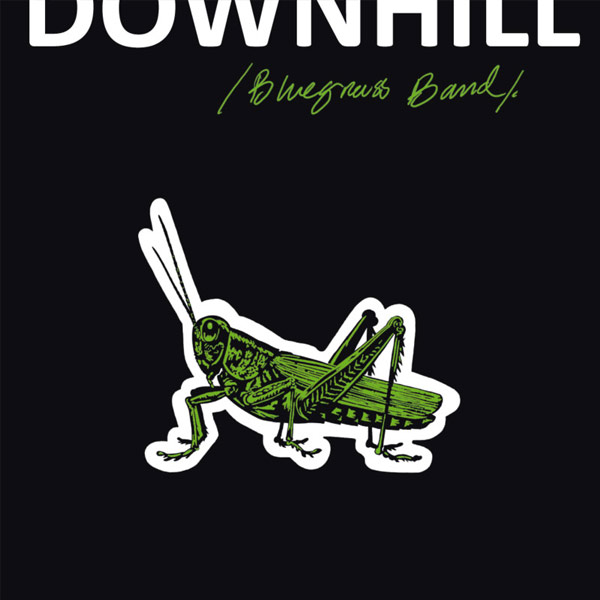 A Grasshopper's Lament
Downhill's  fjärde album på eget bolag "LimestoneHouse Music".
Den här gången med enbart eget material skrivet av låtskrivaren och mandolinisten Jonas Kjellgren.
Detta album hade Ivor Ottley på fiol och Magnus Sundström på gitarr. Nicke Widen ersatte också Janne Ekman på dobro på denna inspelning.
Recension från Bluegrass Unlimited
Strong instrumentation, good vocals and harmonies, and original material have made this group from Sweden one of the most popular bands in Europe. They also have had several successful trips to the U.S., where they have been warmly received.
The project is their fourth release and was more than a year in production because they wanted a "more mature and thorough sound." All the songs on this project are original with Jonas as the primary composer of both music and lyrics. The music runs the gamut from straight bluegrass to jazz to the dark side of "Silver And Gold." The title cut is a slow instrumental that lets everyone shine.
There is a variety of moods here from "Give It Up And Give In," "Us Against The World," "That Idiot Wind," "Crawl Back," to "Talking To A Barman." Downhill continues to draw in fans from both sides of the pond!
BILL FOSTER  
↓ Text Give It Up and Give In
Have you wandered alone
down life's crooked way
have you lived without love
oh for nights and for days
Now did you you search for the answers,
did you question yourself
was it all wasted tears
have you cried all those years
for nothing at all
Give it up and give in
don't you fight it no more
Turn around turn around
don't you open that door
It will bring you over
to the other side
and when the fire comes down
there'll be no one around
to show you the way
All mans crumbling works
will be counted as lost
and around and round
all your ships will be tossed
And the sea will eat you
and swallow you down
Now was it all wasted tears
have you cried all those years
for nothing at all
↓ Text Reckless Wind
If I found me a woman
one thing's for sure
I will give her plenty
and she will ask for more
Then I'll be gone
like a reckless wind
just to add another lie
to my list of sins
Life's a gamble
you'll pick and choose
It's head or tales,
it's win or loose
and it doesn't matter
just how hard you try
'cause you can never add the truth to a lie
I wanna climb a mountain
that's too steep
I wanna swim waters
cold and deep
sometimes I laugh
when I should weep
I have to stand there on the edge
and take a leap
A tempting love
however strong
will never keep me
'cause I need to roam
Then I'll be gone
like a reckless wind
just to add another lie
to my list of sins
↓ Text Silver and Gold
Show me your scars
and I'll show you mine
whisper your secrets
through the walls of time
out in the darkness
the music plays on
silver and gold
soon all will be gone
Come with me now
this time is ours
let go of your fears
bring on the powers
stay by my side
and no one will harm you
follow the light
I walk right beside you
I'm a stranger to roses
but friends with the thorns
I walk through hells fire
and I never feel cold
I come with this gift
now don't be afraid
I'm the last man on earth
I will stay in the shade
Come with me now
this time is ours
let go of your fears
bring down the powers
stay by my side
and no one will harm you
follow that light
I walk right beside you
Come with me now
this night is ours
let go of your fear
bring on the powers
stay by my side
and no one will harm you
follow that light
I walk right beside you
Show me your scars
and I'll show you mine
whisper your secrets
through the great walls of time
out in the darkness
the music plays on
silver and gold
soon all will be gone
Soon all will be gone
↓ Text The Duke
Allright now, here we go….
Now, loving
What's the point, my dear?
She said it all
and made it all so clear
If you do love somebody
then, you know,
you've got to let it show
or else, let her go
Now, hurting
That's an old friend of mine
and he'll be with me
'til the end of the line
when everybody else
will honk you down
he'll choose to stay around
well, let him wear the crown
Don't roll away the stone
let me dwell here in my cave
I'll be dancing, drinking
while I'm digging my own grave
my kingdom needs no horse
no remorse
no queen
no spleen
no, no beauty dreams
no happy end
thank you
I'm quite content
Now, healing
There's no use in being blue
I knew my time
when it was well overdue
I'm the duke of deflection
my selection
of broken hearts
torn apart
It's a state of art
So don't roll away the stone…
Thank you, but I'm fine
↓Text Us Against the World
I've assembled myself
and I've poisoned the well
I've cursed and I cried out for help
Now I run in this haze
trying to backtrack the traces
to where I first saw that smile on your face
And to hell with it all
I might win I might fall
we said it was all for the best
here we silently bowed
and we made our vows
It was us against the world
I was lost you were hurt
we carved our names in the dirt
and sealed our confessions in blood
when we walked down the aisle
the trees trembled and smiled
we could have walked for a thousand years
But we picked the wrong trail
I don't know where we failed
well I guess we weren't blessed from the start
But we held on to our dream
and we sang out our theme
Us against the world
But the wind lost direction
the sky its reflection
all the colors blurred into grey
we got scared of the ones
that sang for no reason
while the days just faded away
Well I know that they say
that all flesh is hay
but it won't give me no time to rest
I'll be home by tonight
so don't shut out the light
'cause it's us against the world
↓ Text Red Robe
I was still awake
when they nailed me to the floor
the ceiling kept on spinning
someone shouted "Give him more"
It was Jeremiah Walker
friend of Douglas Clerk
I always had considered him
to be some kind of jerk
Say goodbye say goodbye
to your family and friends
you lying, cheating bastard
we will kill you in the end
they plucked me like an old hen
and painted me with tar
and the flames the went higher
I was aiming for the stars
It's funny now how things sometimes
turn out to go so wrong
with all the good intentions
the Devil comes along
and he gives you an offer
that you just can't refuse
and suddenly you've sold yourself
and your soul will be used
I could have had it all
I held it in my hand
it was a little white dove
I just don't understand
I'm proud to meet my maker
and his only son
just give me my make up
and put my red robe on
Put my red robe on
↓ Text That Idiot Wind
I wonder if you picture me
hung up from an old oak tree
will you use that phrase
when you see my face
the funny one about the human race
Someday the first will be the last
and the loser's gonna kick some ass
do you still see him
the skinny one that couldn't swim
Standing in the hallway
wasted on a Monday
all I know is I gotta go
and I have to see you
Just made it half way
got to call in sick
I got to get laid
pull yourself together now
there's a strange and familiar sound
blowing through my mind
That's the idiot wind
It's kind of strange
I'm out of range
and I see myself from up above
I can't walk
I can barely talk
and I'm locked up in my own thoughts
You're sweet and kind
like the finest wine
you hold the key
that will release me
there´s nothing I can do
now it's all up to you
Standing in the hallway…
↓ Text Count Me In
I know you treasure freedom
you say it all the time
I just want to be with you
and for Gods sake that's no crime
You think you can get rid of me
by playing hard to get
But I do know a trick or to
You ain´t seen nothing yet
No you ain´t seen nothing yet
You can do as you please
go where you want
live as you like
and wear what you want
drive any car
travel free and far
as long as you count me in
And if some old way you love me
then I know for sure
and your poor attempt to hide it well
just makes me love you more
And I'm not going anywhere
no matter how you act
I'm staying right beside you
so you'd better face the fact
Yes you'd better face the fact
'Cause you can do as you please…
↓ Text Crawl Back
Come gather around me people
and a story I will tell
I wrestled with the Devil
and I faced the gates of Hell
I met this fair young maiden
she would lead us all astray
and if you ever touch her lips
she'll drain you dry as hay
She will snare you with her long black hair
as you drown into her eyes
you fade away your life's a slay
the raven's flying upside down
she will peel your skin off
and crush your bones
and feed it to the hogs
the dogs will cry out like a little boy
and soldier, so will you
Crawl back baby, crawl back
back into your hole
Lord, have mercy
on this poor and worthless soul
The night is growing darker
the end is coming near
Trust me, if you touch her lips
it's all downhill from here
There's no escape, there's no way out
there'll be no flowers on your grave
she will bite your tongue off
and let you sing
the last words you had to say
you will turn yourself inside out
and spin around while you choke
up another roach
this is not a hoax, no
this is not a joke
So crawl back, baby, crawl back…
↓ Text Back in Town
I'm back in town
I've been gone for a while
I'm walking the streets
with the worlds biggest smile
I'm happy to be here
I've been long gone
the lure of the city
brought me back home
Cause I spent some years
on the country side
some pretty young girl
took me there for a ride
I work on her fields
from spring to fall
just to find out that blue jeans
don't suite me at all
When the winter storms
were coming on strong
I said to myself
hey, now something's wrong
there's no need for me staying here
trying to be a country boy
I wasn't made for this country life
with a pick up as a home
and a horse for a wife
no I was born
to slide down the street
and to fall in love
with every woman I meet
So now I'm back in the city
with its bright neon lights
with too much of drinking
and ballroom fights
I'm gambling and hustling
living my dream
it's so much better
than it might seem
When the winter storms…
↓ Text Talking to a Barman
I know I live my life
on my own selfish ground
I never had the patience
to really stay around
I choose to live alone
for better and for worse
now this totally empty feeling
has become a curse
Maybe it's your beer
that's made me want to talk
maybe I'm just fed up
from my aimless walk
My story on your counter
gives my poor heart ease
so poor me another one
won't you please
'Cause we all need a background
on which we can depend
but there's nothing left
where my past used to stand
I choose to live alone
for better and for worse
now this totally empty feeling
has become a curse
My pitiful confession
is coming to its end
and I will rent a room from you
my substitute friend
you don't need to show me
I can find it on my own
I can have some restless hours
before I'll be gone
'Cause we all need a background…
↓ Text Up and Down These Roads
I've been up and down these roads
and around and round this world I've roamed
like a reckless miner on a quest for gold
with this growing fear of getting old
Now I know what this is all about
'cause some things in life you can't do without
I was blind but you made me see
and now I hope you still wait for me
I'm going home
to the ones I love
I'm gonna wrap myself around them
never to let go
Now I know
what this is all about
now my heart has told me
what I can't do without
'Cause I've travelled far across this land
and now at last I understand
that the more you give the more you get
it's a lesson learned I won't forget
I'm going home
to the ones I love…
↓ Recension från Sing Out Magazine
"Tom Druckenmiller Sing Out Magazine Autumn-11/Winter-12" Bill Monroe would be proud. His music has travelled very well. Lately bluegrass bands have popped up all over the world, but in Sweden the sound seems to be particularly popular. Downhill Bluegrass Band was founded in 1997 by mandolinist/vocalist Jonas Kjellgren and his brother banjoist/harmonist vocalist Kenneth.
A Grasshopper's Lament is the band's fourth cd and the first with all original material composed by Jonas. In addition to the brothers, the band includes Kajsa Westin, bass and harmony vocals; Ivor Ottley, fiddle; Nicke Widen, Dobro and Magnus Sundstrom , guitar and harmony vocals. A Grasshopper's Lament opens with "Give it up and give in" a fast-paced tune wich highlights Kenneth's banjo, Nicke's Dobro and the bands harmony vocals.
The lead vocals taken by Jonas have a distinctly new grass spirit with thankfully no faux southerbn accent. "Reckless Wind" could come right out of Jimmy Martins songbook with it's soulful lead vocals, Magnus' flatpicked guitarsolo and rhythmic stops and starts. "The Duke" is a swing-inspired tune spotlighting Ivor's fiddle and once again Magnus' guitar. The backing vocals are especially tasty. The title track is a moderately paced instrumental allowing each of the soloists a turn at the sweet melody. "Up and Down these Roads" wich concludes the CD, is an introspective observation on the future and the knowledge gathered over time.
If there is a criticism of the Downhill Bluegrass Band it is the sameness in the lead vocal sound. Jonas is a distinctive singer but a little variety would have been nice. In any case the Downhill Bluegrass Band has learned many lessons from the masters of the style. A Grasshopper's Lament is a solid, well-played bluegrass CD any American band would be right proud of. TOM DRUCKENMILLER
↓ Recension av Heath Andrews
To a majority of people, bluegrass music is going to be associated with the American South and Appalachian regions where the genre developed and flourished.  Somewhere further down the list of places you might expect to hear a bluegrass band hailing from is Sweden, but that's exactly where Downhill Bluegrass Band comes from.  Having been around since the late '90s, the group, led by singer and mandolinist Jonas Kjellgren, has toured extensively around Europe and released three albums.
Their fourth, A Grasshopper's Lament, bristles with energy, talent, and exceptional songwriting.  What's more is how staggeringly well the band plays together, resulting in a consistently stellar album that comes together as more than the sum of its parts. The band's line-up consists of the aforementioned Jonas Kjellgren, Kenneth Kjellgren on banjo, Magnus Sundstrom and/or Mikael Grund on guitar, Nicke Widen playing dobro, fiddle-player Ivor Ottley, and bassist Kajsa Westin. In all fairness, no one musician outshines another across the album.  Everyone in the band feeds into the group sound and the synergistic effect it creates is always complimentary to the emotion of the song.
Even when one of the pieces doesn't have a strikingly memorable hook or isn't entirely catchy, the lively performances make every one of the thirteen songs enjoyable. "Give it Up and Give In" leads the album off with the kind of sound that is very identifiable with the genre.  Quick paced banjo picking meets the gentle whine of the dobro to create a bouncy energy and a slight bluesy tone.  This matches the lyric well as Jonas sing, "Now when the fire comes down, they'll be no one around to show you the way…"
His voice and delivery is very notable as well for its unique qualities. If Roland Gift of the Fine Young Cannibals decided to go country with a bit of a lower pitch and tone, you'd have a reasonable approximation of Jonas's voice.  He makes his songs compelling and delivers his lyrics just as well as he wrote them. "Silver and Gold" demonstrates the band's ability to create a unique arrangement in order to emphasize the emotional weight of a song.  Though it starts off with forceful rhythm guitar and vocals, the instrumental bridge is played in a gentle manner by the band, allowing the fiddle to take advantage of this and deliver a strongly emotional solo.  Throughout the piece are sustained backing vocals that also add to the song's emotional weight.
The title track's straight-up instrumental does a good deal to showcase the individual member's talents as strong dobro, guitar, mandolin, and fiddle parts drive the song along its three minute journey.  The performances are so strong that the song just breezes right by in its jubilant manner. "Count Me In" is another piece that flies right by on the strength of its fiddle, backing vocals and the way the higher timbre of the mandolin pokes its way through the arrangement to remind you of how much it adds to the music.
Though it's difficult to call one song better than any of the others, since they are all so strongly consistent, "That Idiot Wind" is a contender for the best song here on the album.  With an intensely catchy chorus, delivered brilliantly by Jonas, and just the right amount of harmony from the rest of the group, the brilliant hook stands out amongst the many others.  "Crawl Back" is also a contender for the best song on the album given its darker tone and story about a woman who you really don't want to get involved with; because she may be in league with the Devil.
Downhill Bluegrass Band has put together an exceptionally strong album of amazingly well-performed original bluegrass songs.  Each track is the perfect length and showcases a cohesive band playing to their full potential.  It'd be hard to improve on material this strong, so the only potential problem with A Grasshopper's Lament is in how high the bar has been set- for future releases. HEATH ANDREWS
Mountain Songs Maxida Märak & Downhill Bluegrass Band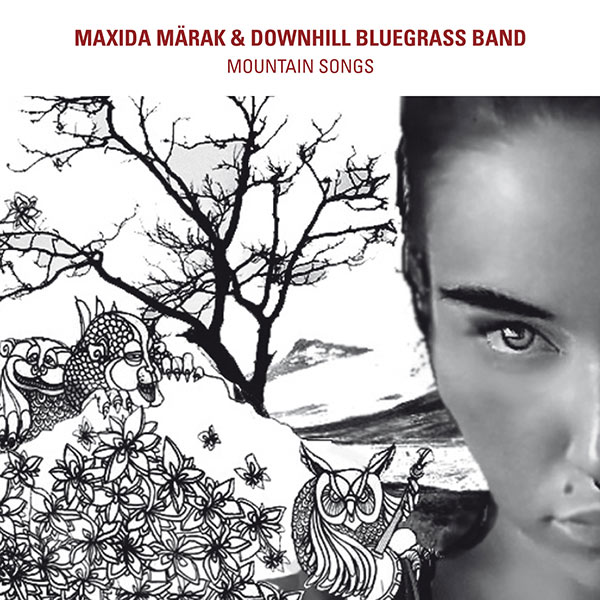 Mountain Songs
Singeln "Mountain Songs" innehåller två låtar: "The Mountain", skriven av Steve Earle och "East of the Mountains" skriven av Jonas Kjellgren, sångare i Downhill.
Maxida och Downhill blandar traditionell jojk med modern sång och samtida bluegrass med traditionell instrumentering som är Downhill's specialitet. Lyrics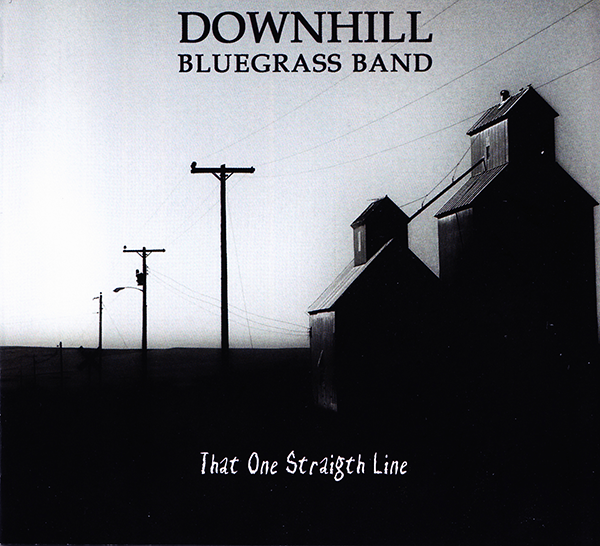 That One Straight Line
Den andra utgåvan på Limestonehouse Musik, med låtar av Jonas Kjellgren, Christoffer Olsson och Mikael Grund.
Downhill Bluegrass Band blev inbjudna av IBMA att uppträda med låtar från "That one Straight Line" på IBMA Awards i Nashville 2007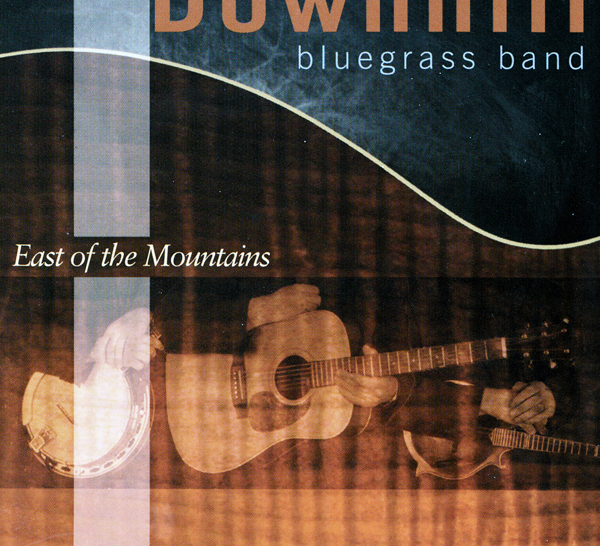 East Of The Mountains
Den första utgåvan på egna bolaget "LimestoneHouse Music". Albumet ledde till att Jonas Kjellgren blev inbjuden av IBMA att uppträda på Songwriters Showcase på Lousville IBMA Awards 2003.
Flera låtar från "East of the Mountains" har spelats in av andra artister sedan dess.